There are several dog harness types to choose from. When you are purchasing one for your pet, be sure to focus on safety and durability. You should lean toward utility over style. Read on to learn more about dog harness types and how they work. The best one for your pet depends on your needs and your budget. Here are some of the most common types. Listed below are some of their most common uses. Hopefully, this will help you decide which one is best for your dog.
5 Types of Dog Harnesses
Front-Clip Harness;
Back-Clip/Step-In Harness;
Tightening Harness;
Dual Clip Harness;
Head Halter Harness.
What kind of harness is best for a dog?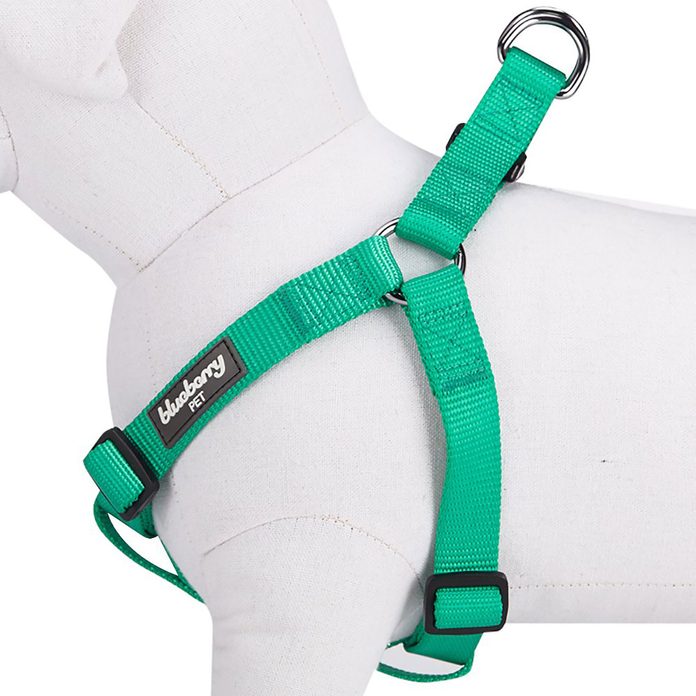 Whether you own a small breed of dog or a large breed, you may be wondering: What kind of harness is best for a puppy or a large breed? Dog harnesses are safer for the dog's neck and throat. A collar puts pressure on these areas, which may lead to eye and tracheal collapse. Collars can also cause whiplash if the dog suddenly changes direction or lunges or pulls.
Not all dog harnesses are designed for comfort. Some are too bulky or difficult to adjust. Some dogs aren't comfortable with restraints, so they may resist them. Some harness styles come with a buckle that circles the neck. Harnesses should be adjusted in several places to fit a dog's specific body size and temperament. The buckle should be easy to get on and off.
What dog harness is best to stop pulling?
No-pull harnesses are made with a front clip that tugs on the chest of the dog. The dog is then forced to turn toward the owner. The front clip can become uncomfortable for some dogs, especially those that are squirmy. To prevent this from happening, some dog owners opt for a dog harness with both front and back clips. These harnesses also come with reflective trims.
The K9 Explorer dog harness is reflective and padded. This makes it a good choice for night walking and low-light conditions. Its thick straps and cushioned chest pad prevent sore spots. It's great for medium-sized dogs. It also comes with an adjustable buckle. This helps you to fit the harness according to the size of your dog. It also features a velvet lining for your dog's chest.
Why are there two loops on a dog harness?
When you buy a dog harness, you should first know why it has two loops. The first loop is the one on the dog's neck; the second loop is on the dog's back. To install the dog harness, you must lay it flat on the ground and then attach the dog's harness using the D-rings. You should then place the first and second loops on your dog's neck, with the legs in between the loops.
One common dog harness has two loops, the Control Loop and the Adjustment Loop. You can adjust the control loop, which is smaller than the other loop. The adjustment loop allows you to adjust the collar to fit your dog. You should always measure the dog's neck size before buying a dog harness. The length of the leash should be around three feet, not four. You should also check the harness's size before committing to it.
What is a no pull harness?
A no pull dog harness is a great tool to use if you are looking for an alternative to a standard dog harness. The standard harness is designed to make pulling easy because it connects to the back of the dog's neck. However, the design of a traditional dog harness can restrict a dog's natural movement and may cause pain. A no pull dog harness blocks these movements and teaches a dog to walk without pulling.
There are many benefits to a no pull dog harness. For one, it eliminates uncomfortable chafing and choking. Another benefit is that your dog will not be able to pull ahead of the harness. The material that the harness is made of is important. Generally, a softer material is more comfortable. Mesh no pull dog harnesses are the most comfortable for medium to small breeds. A mesh no pull harness should be firm, but soft to the touch.
Why you shouldn't use a dog harness?
If you're not sure if you need a dog harness, read on. Dog harnesses help you gain control over your dog and discourage pulling. A harness helps you control your dog's actions because it places pressure on its front legs instead of its neck. Instead of pulling to move forward, you'll just be pulling on his front legs and not getting a very effective result. A harness can help prevent your dog from jumping and giving you a lot of frustration while you're out walking your dog.
A dog harness can be uncomfortable for your dog, especially the ones that feature a front strap. When your dog sits, the straps can pinch his or her chest. The best way to prevent this from happening is to check for irritation on your dog's skin every three to four days. If it irritates your dog, consider removing it immediately. You should wash your dog's harness regularly.
Which Are the Best Dog Harness Types?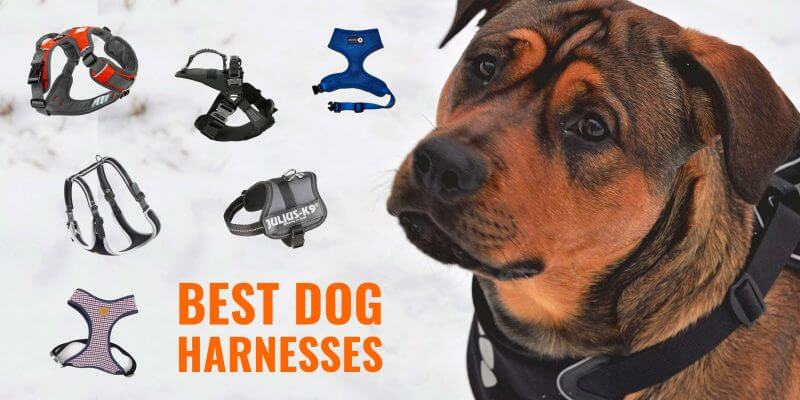 When walking a dog, you may wonder whether to use a dog harness or a collar. Regardless of which style you choose, this article will cover both types. Learn how to choose the best one for your pet and avoid common problems. Read on to discover the pros and cons of each. This article also explores whether no-pull harnesses are cruel or unnecessary. What's the best harness for your dog? Here are some tips to choose the best one for your dog.
Is it better to walk a dog with a harness or colla
There are several benefits to using a harness. For example, a harness is less restrictive on your dog's neck. It's also easier to handle and suitable for dogs with neck problems. But harnesses require more care. They can cause chaffed skin around the elbow and cause additional skin irritation. Harness buckles can also catch on long hair.
Another advantage of a harness is its versatility. There are multiple styles and colors to choose from. Some of them have dual attachment points, which provide you with plenty of control and make walking your dog easier. You can purchase harnesses that are designed for dogs from fourteen to 250 pounds. They can also be used on smaller dogs and toy breeds. If you are not sure which one is right for your dog, you can try a strap-style harness.
Is it better to walk dog with a harness or collar?
There are many benefits of using a harness when walking your dog. The harness sits across your dog's chest, distributing pressure evenly. However, some dogs have issues with collars, making it necessary to use a harness. You should always buy a harness that is suitable for your dog's breed. A harness is more comfortable for a relaxed dog, while a collar can be uncomfortable for a puller.
One of the most obvious advantages of a harness is safety. Dogs can become clumsy if they're not properly restrained and can endanger themselves and other dogs. Harnesses are also less likely to be slipped off if your dog pulls hard. Collars can also come undone if your dog pulls too hard. Harnesses are much more secure, so if your dog does pull a collar will be less effective.
How do you stop dog from pulling on walks?
How do you stop a dog from pulling on walks? One of the first steps you need to take is to establish clear expectations. If you allow your dog to pull, this will only lead to repeat behavior. It's not a good idea to ignore your dog's behavior; instead, give it praise and treats if it stops. However, if you let your dog pull for a long time, it may take a week to walk without stopping.
When walking your dog, make sure to give him a reward every time he stops pulling on the leash. The reward he'll get from this action will make him stop pulling and move forward. Then, try reintroducing the same behavior by offering him a treat or praise if he catches up. Make sure you do this often to make your dog understand. You'll want to keep practicing this technique until you stop your dog from pulling on walks.
Are no pull harnesses cruel?
A no pull dog harness uses discomfort against the ribcage to encourage your dog to keep pressure off the leash. Contrary to some other no pull training products, no pull harnesses are not cruel. A properly fitting harness will not chafe your dog's skin or cause him pain. If it doesn't fit properly, it could cause irritation and soreness. No pull harnesses are not cruel to your dog, but you should check the size before you buy one.
Although some dogs seem to respond to no pull dog harnesses with less pulling, they still require training. Regardless of whether you buy a no pull harness or collar, if your dog is likely to keep pulling, you'll most likely have to train your dog to ignore the leash and walk at your side. A no pull harness may also be the only option if you don't want to put your dog through the training process. However, if your goal is to prevent pulling, it might be worth investing in a no pull product to ensure safety.
What is a martingale dog harness?
A martingale dog harness, also known as a choke collar, is a kind of collar that constricts when a dog pulls. It works by making a smaller loop tighter than the larger one. Because it's adjustable, it can be made to fit any dog's neck, and you can adjust it according to your dog's size. It's a great tool for dogs that pull on a leash and provides comfortable security. And because it isn't painful for dogs, you can buy one for your pup.
A martingale collar helps train your puppy by making it harder for it to slip free. They are especially helpful if you walk your dog by a busy street or near an electrical outlet. A martingale collar is safer for all dogs and can be found at 2 Hounds Design. You can also find great options for other dog walking accessories, like leashes and collars. You can find the best harness for your pup by browsing their online store.